+ Your cart is empty
Kenny Acosta - Blues Music Recording Artist
Meet Kenny Acosta Blues Legend and the winner of the 2011 and 2012 New Orleans Blues Challenge solo/duo competition as a solo act. Kenny proudly represented the Voodoo Blues Krewe New Orleans Blues Society in the International Blues challenge in Memphis as a solo act in 2012 and 2013. Kenny is a magnificent songwriter, musician, arranger, and vocalist and this year makes 46 years in the music industry for this highly talented Baton Rouge Blues Icon.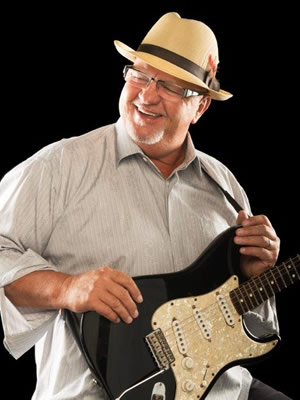 To add to his many attributes Kenny is a brilliant guitar, music and voice instructor in high demand. Kenny's latest CD "Justice Blues" is an all original acoustic CD written, recorded and mixed by Kenny, produced by Kenny and his wife/partner Susan on their record label Bluzman Records, LLC, and mastered by dear friend Bob Heym.
In 2008 Kenny and his band represented Louisiana in the 13th Annual Epcot International Wine and Foods Festival in Disneyworld and gained many fans from all over the world. On June 11th, 2005 Mayor Kip Holden of Baton Rouge proclaimed Kenny Acosta Day in honor of the release of his second CD "Spanish Town Mardi Gras". In 2003 Mayor Bobby Simpson of Baton Rouge made Kenny honorary Mayor for a day at Baton Rouge's Fest For All on the Blues Stage during Blues Week; the first such award bestowed upon a Baton Rouge Blues man ever. Kenny won the 2003 Baton Rouge Blues Challenge in the band division and represented the Baton Rouge Blues Society at the 2004 International Blues Challenge band division held in Memphis. In early 2003 under new management with Bluzman, LLC, Kenny and the band were performing in regional festivals events, clubs, etc. from Key West, Florida to Fairbanks, Alaska.
Through the 80's and 90's Kenny traveled the Gulf Coast and the southern States. Kenny released his first solo album "Hot Dog" in 1984. He was awarded a plaque for best original song for "Justice Blues" by the Louisiana Songwriters Association at the 1989 Baton Rouge Blues Festival. At that time the festival was the second largest Blues Festival in the country. Also in 1984, KRVS FM Radio station in Lafayette, Louisiana awarded Kenny a plaque for being the most requested Blues musician. During the years of 1986-1994 Kenny was a regular performing with his band at the New Orleans Jazz Festival.
From 1972-1979 Kenny Acosta was a main stay in the American Blues scene. Playing out of Austin, Texas he fast became a popular and noted blues performer. A regular at Armadillo World Headquarters Kenny performed with Marsha Ball, Kim Wilson, W.C. Clark, Stevie Ray and Jimmy Vaughn and many other greats. Coming home to Baton Rouge in the fall of 1978 Kenny teamed up with "Cadillac" Cook to form Kenny Acosta and the House Reckers. Kenny's musical performance as a solo artist magnifies his incredible charisma, and conveys unity between himself and his audience. Kenny Acosta will showcase his unique versatile voice and his creativity as a producer, arranger, songwriter, and brilliant guitarist. The recipe for Kenny Acosta's musical performance consist of down home blues, mixed with the New Orleans street beat and Caribbean rhythms, sautéed in a funky mixture of soulful growl.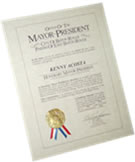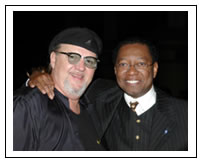 Kenny Acosta
& Baton Rouge Blues Mayor, Kip Holden
Yes, Kenny "has been lots of places and done lots of things", but bottom line is, he will entertain you with professionalism and his charisma.