+ Your cart is empty
Spanish Town Mardi Gras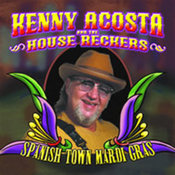 Kenny Acosta and the House Reckers
"Spanish Town Mardi Gras"
Bluzman Records BY PETER "BLEWZZMAN" LAURO,
© March, 2007 Mary4Music
Having played out of Austin, TX for many years, with the likes of Kim Wilson, W C Clark, and Stevie & Jimmy Vaughn, one might expect a different kind of sound from KENNY ACOSTA. However, it's very apparent that, although he can be diversified, he never strayed far from those Delta roots. On "SPANISH TOWN MARDI GRAS", it's quite evident where this Baton Rouge native is from.
Anyone who has ever had a bowl of gumbo knows that it's a perfect blend of many different ingredients. KENNY'S music is no different. This discs main ingredients are several very well done covers and several very well written originals spiced up with a hint of island fare, pinches of funk, dashes of blues, splashes of jazz, spoonfuls of soul and lots of good ol' Cajun hot stuff.
The people responsible for this very tasteful creation are KENNY ACOSTA on guitar and vocals, JOE EUNICE on bass, BRANDON COCKBURN on drums and JOE "BOY" MICELLI on percussion.
"SPANISH TOWN MARDI GRAS" opens with a very jazzy yet super soulful version of "BLACK DRAWERS". KENNY'S vocals, very reminiscent of a young Dr. John, and his very smooth, jazzy style of guitar, along with great effort from JOE on bass, clearly highlight this track.
The original title track, "SPANISH TOWN MARDI GRAS", picked me up from my desk and placed me in a seedy little cantina where I watched a scantily clad women, dancing to Flamenco music, attempt to seduce Ricardo Montalban. What a great song!
For the funk fans "RAJUN CAJUN" is all yours. This one is pretty much all about JOE MICELLI slapping the hell out of some congas, bongos and whatever else he can get those hot hands of his on. On the other hand, total blues freaks like me will just love "CALL THE PLUMBER". This is good old down home blues at it's best. KENNY'S vocals and blues guitar are the best they get on this one, another original.
Although he didn't write it, "LINDA LOU" is a perfectly written song for KENNY'S voice and singing style. He seems to really enjoy cutting loose on this one. This track, just shy of three minutes, could have pleasantly been twice the length. It seemed just as KENNY was peaking the track was ending.
"COCAINE BLUES" is another track which features KENNY'S smooth and soulful vocals and his great guitar playing. This is the kind of stuff you can listen to all day long and never tire of. JOE and BRANDON are both at their peak on this one as well.
Other great tracks on "SPANISH TOWN MARDI GRAS" are: "AIN'T HEARD JACK", "MOJO", "TIME BOMB" and "WOKE UP THIS MORNING".
KENNY ACOSTA AND THE HOUSE RECKERS are one of those bands that love being on the road. If you live anywhere in the South Eastern part of the United States, do as I recently did and catch his live act. You can view his schedule, and buy a few of his CD's at www.kennyacosta.com. While you're there, tell the BLUZMAN that the BLEWZZMAN sends his love.