+ Your cart is empty
Full Moon On Blues Street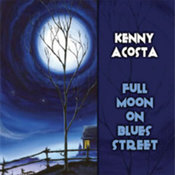 Kenny Acosta "Full Moon On Blues Street"
BY PETER "BLEWZZMAN" LAURO, © November, 2007 Mary4Music
Down in Louisiana, along the banks of the Mississippi River, there's a very soulful and charismatic blues man who's currently paying his dues, while quickly working his way up to becoming a household name in the blues community. No, I don't mean that Delta Blues Man, he's already a household name. However if you did take the legendary Dr. John, dispatched him of his voodoo and elixirs, made him a bit more articulate and stood him behind a guitar rather than sat him in front of a piano - you'd now have the blues man I'm talkin' about -KENNY ACOSTA.
On "FULL MOON ON BLUES STREET", his third release, KENNY ACOSTA on guitar and vocals, is joined by: SHAWN MANGUNO and BILL STEWART on drums; MIGUEL HERNANDEZ on bass; N C THURMAN on Hammond B3 organ and piano; and KEVIN MC KENDREE on Hammond B3 organ.
The disc opens with an original - which at a recent live show, KENNY announced that he had written for his lovely wife SUE - titled "NOBODY'S BETTER THAN YOU". KENNY seems very happy to announce that as a result of nobody being better than her, that nobody has it better than him. The song is slow but funky and features good soulful vocals by KENNY, backed up by a mellow yet funky rhythm section.
Some of KENNY'S best vocals can be heard on the slow and soulful Ray Charles ballad called "HARD TIMES". It's stuff like this that is quickly making KENNY ACOSTA one of my favorite blues vocalists.
KENNY does an absolutely masterful version of one of my personal all time favorite blues songs - "I STILL HAVE THE BLUES FOR YOU" by Gary Moore. This ballad is all about Kenny. With the band in a real soft groove behind him, KENNY just tears it up on the vocals and his precise picking on the piercing guitar notes. This one is by far the best track on the disc. While writing this paragraph, I may have hit the replay button on the media player more than I did the keypad.
Hearing the sorrow in KENNY'S voice, as he sings about the great flood of 1927 on a track called "LOUISIANA", would make one think he was singing about something he had lived through. Thankfully he hadn't. But then again, this Baton Rouge native does have Katrina - which offered some horrible similarities - fresh in his mind. More great vocals on this one.
This disc, which was rich with slow and soulful ballads, appropriately ends with one of the best slow and soulful ballads of all time - "HOUSE OF THE RISING SUN". Interestingly enough though, KENNY'S version, about halfway through, picks it up a notch. Great rhythm by BILL and MIGUEL on drum and bass on this one.
Other tracks on "FULL MOON ON BLUES STREET" include "BOOGIE CHILLEN", "MR. CHARLIE", "JUST TO HAVE THE BLUES", "POLK SALAD" and "THE THRILL IS GONE".
If KENNY ACOSTA should ever decide to take a trip to the Crossroads, there would be "no way in hell" the devil could afford his soul - there's just way to much of it.
Visit KENNY at www.kennyacosta.com and while you're there, tell KENNY you stopped by to see what the Blewzzman had to say about his last disc - "SPANISH TOWN MARDI GRAS". Then do yourself a real favor - buy them both.